Any restaurant with a "concept" makes me a bit nervous. "Do you understand the concept? I have been asked many times over the years. Sometimes, if the staff is more cheerful, it's just a "Have you ever had dinner with us?" before explaining that everything is served "as a family", "in no particular order" or "is only made with things recovered from the garbage cans"; at one location, I was allowed to take my next course only after indicating that I had completed my current course by holding up a specific paper flag on a cocktail stick.
Fortunately, Dai Chi's only concept is that almost all of its dishes come on skewers, Japanese kushiage-style (ie, pub food). That said, most of these skewers are fried and often breaded, so they describe the restaurant more as a kushikatsu, which is big in Osaka. At Dai Chi, that means you get a single, breaded, premium Iberiko black tomato on a skewer, with a meaningful anchovy draped over the top. Please eat it all at once, chew, down, as any attempt to munch on it will result in some serious sponging on your cleavage. Another notable skewer is a large breaded eringi mushroom with a solo rifleman at the top.
There are also items without skewers, and all are equally delicious – and short: a titchy tuna tobiko taco and a winter leaf filled with burrata and sprinkled with wobbly pink salmon roe. You can opt for the £38, six course omakase menu or go rogue a la carte, which would involve trying to figure out how many skewers you need for each item to make sure dinner looks like it actually happened.
I watched, with some anxiety, as other tables try to do just that, and it made me wonder if perhaps kushikatsu wasn't better suited to informal picking and sipping in a bar. , rather than a real dinner in a fancy restaurant. Mind you, every time I quibbled over something or the like, another bite of something beautiful on a stick came along and I couldn't fault the love, care and skill involved. One of first courses, a small plate of hamachi (amberjack) with truffle soy and furikake, was garnished with a delicate shiso flower and was one of the most beautiful, fragrant and indulgent plates of this particular fish I have ever had .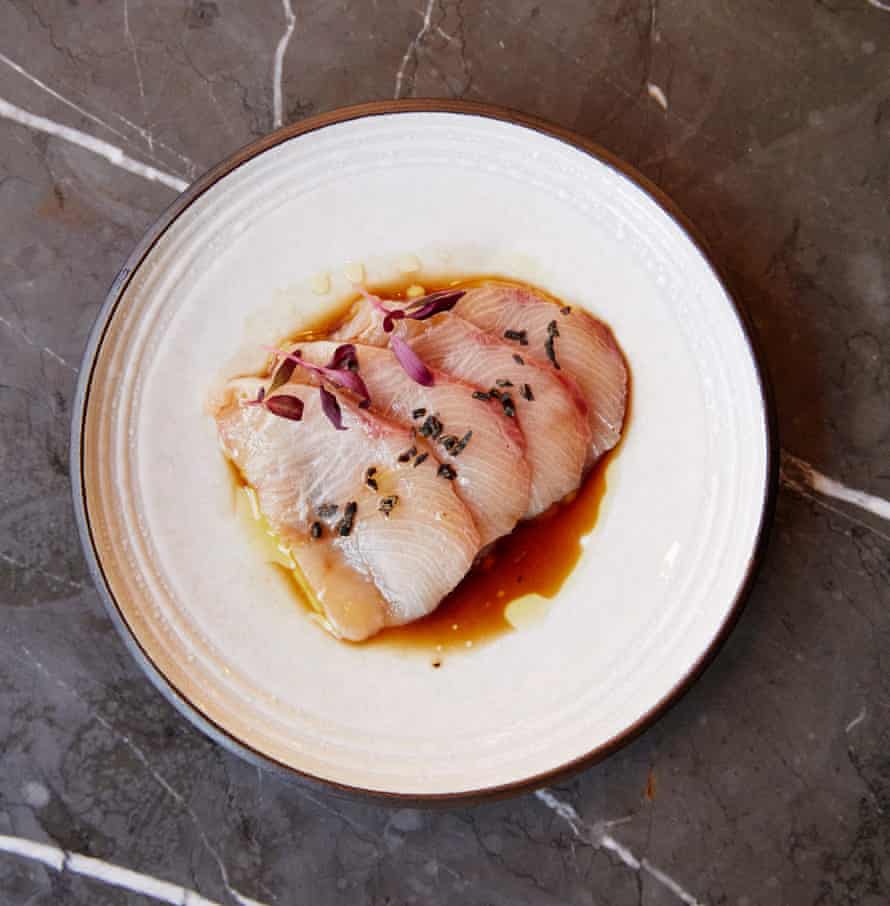 A second course was a small segment of brilliant Hokkaido milk bread with two slices of sweet tomato, which was particularly good. The presentation is artsy, alluring, and makes picking up the item in question and shipping it off in two bites seem almost rude.
Dai Chi is the second London restaurant from the people behind Angelina in Dalston, where the concept is Japan meets Italy – bologna with nasu dengaku, say, or crab with wasabi tobiko. From the start Angelina was quietly respected for slightly biased notions which she pulls off with aplomb – you would never call these people boring.
At Dai Chi, the atmosphere is just as deliciously strange. I have arrived at Summertime by DJ Jazzy Jeff and the Fresh Prince screaming across the room, which then merged into Don't Break My Heart by UB40. There are far too few ground staff and no non-alcoholic options on the cocktail list, despite stocking a nice range of ginger, plum and pepper shakes. Also, once we had our first round of drinks, there were no other offers. Again, the whole room was spending a tremendous amount of time at each table, holding customers by the hand through the concept.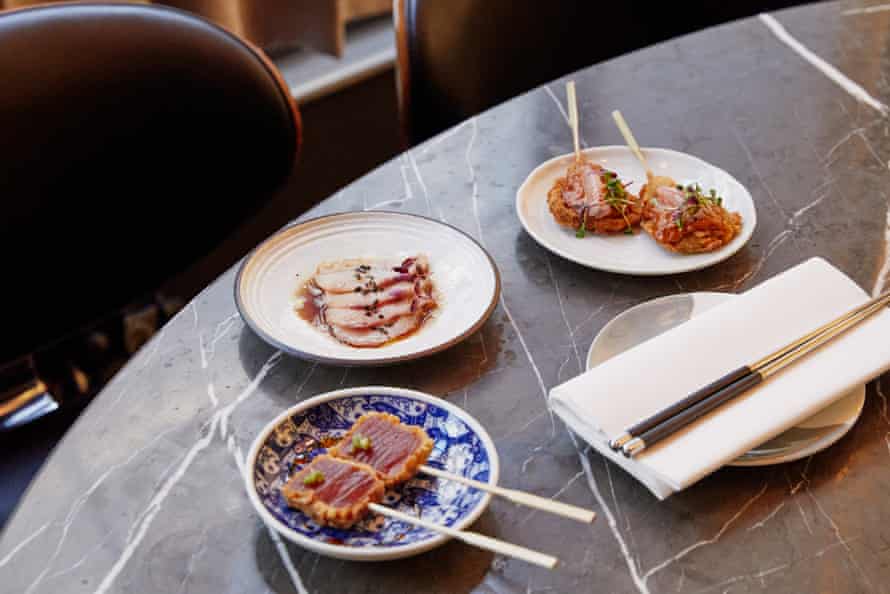 By the time we were five courses into the omakase, I started to feel like I was destined to be a little hungry at the end. Charles, on the other hand, has one of those pervasive hungers that makes me feel like I'm living with an anthropomorphized coal-powered locomotive that constantly needs new bags of fuel shoveled into its ever-demanding furnace. Seven skewers and some petal sashimi are appetizers for his type of appetite; yes, although one of those skewers featured the most impossibly tender tuna, breaded and sprinkled with wasabi, and another – and the star of the whole show – breaded aged beef drizzled with sea salt.
At this point you can choose to add Kagoshima wagyu with ponzu onion wasabi for an extra £55 for two, but I only found that out after scanning the menu when I got home because nobody bothered to mention it at the time. The pudding was a slice of delicious poached pear in miso ricotta, with a truly wonderful, rich, dreamy ricotta and about an inch of perfectly sweet purple pear dipped in a kind of sweet wine – heaven.
Dai Chi is smart, unusual, exciting and weird, and it has some of the most fantastic food in London, although things could get very expensive for large a la carte groups. Like all the best things, it made me want more.
Dai Chi 16a D'Arblay Street, London W1, 020-7734 1449. Open evenings only, Tuesday to Saturday, 5.15pm to 11.30pm (midnight Friday and Saturday). From around £35 per person à la carte; six-course omakase menu £42, all plus drinks and service